Arriving early in Ipoh? And where to get delicious Halal breakfast in the wee hours in the morning? We've got you covered.
4 Best Halal Breakfast in Ipoh
---
1. Auntie Rozz Kitchen
Auntie Rozz Kitchen is just 4 minutes away from Aeon shopping mall. A true hidden gem of Chinese Muslim cuisine. This Halal restaurant started during the pandemic, packing food from home kitchen and so well received that Auntie Rozz opened a restaurant.
This Halal Chinese Muslim specialty are fried kuey teow, fried golden shrimp wantan, and wantanhor.
Not to mention the price for the relatively sizeable amount is cheap. However, you may need to brace for waiting time as good food takes time.
Address: 117, Medan Stesen 19, Station 18, 31650 Ipoh, Perak
Operating Hours: 7:30a.m. to 3p.m  
Contact Details: 011-39707833
Price range: $
Halal: Yes
Remarks: Food is great taste, but as for drinks like coffee you may want to save it for other places
2. Warong Roti Canai Ijam
Warong Roti Canai Ijam has 30 different types of Roti Canai, using ingredients ranging from cheese to various meat and spreads. The selection is simply amazing. Here you can get sweet or savoury bread with the usual lentil and curry dips.
One of the highly recommended dish is roti beef cheese black pepper. It's irresistibly good that one is not enough. If you are not as adventurous, the usual roti canai will not go wrong. The roti canai texture is soft on the inside and crispy on the outside.
Address: 61, Dataran Pengkalan Barat 2, Taman Temara, 31650 Ipoh, Perak
Operating Hours: Roti Canai 7:00a.m. to 1p.m   
                 Nasi Kandar 8.30 pg - 1.30 ptg
Contact Details: 013-4342419
Price range: $ Halal: Yes 
Remarks: Can be long queue in the weekend

3. Warung Kak Wa
Warung Kak Wa is located close PGA Ulu Kinta Camp. Not to missed out; one of the bikers favourite stop over for delicious breakfast. This humble restaurant serves delicious roti bakar with jiggling eggs on top, capati with curry, bihun sup, bakso and fried kuey teow (prawns, clams, beef and chicken).
Address:1, Jalan Bunga Raya, RPT, 31150 Ulu Kinta, Perak 
Operating Hours: 7:00a.m. to 1p.m  (Closed on Sunday)
Contact Details: 018-9545563 
Price range: $
Halal: Yes
Remarks: In front of main door of PGA Ulu Kinta
4. 22.Kedai Cikgu
Only a short 3 minutes drive from Sultan Azlan Shah Ipoh Airport, this is an east meet west fusion breakfast cuisine restaurant.
22.Kedai Cikgu is known for its reasonable price and big portion filling meal. Recommended to try Big Bread Mushroom, Crunchy Chicken Chop, English Big Breakfast, Nasi Lemak Berlauk and Lontong.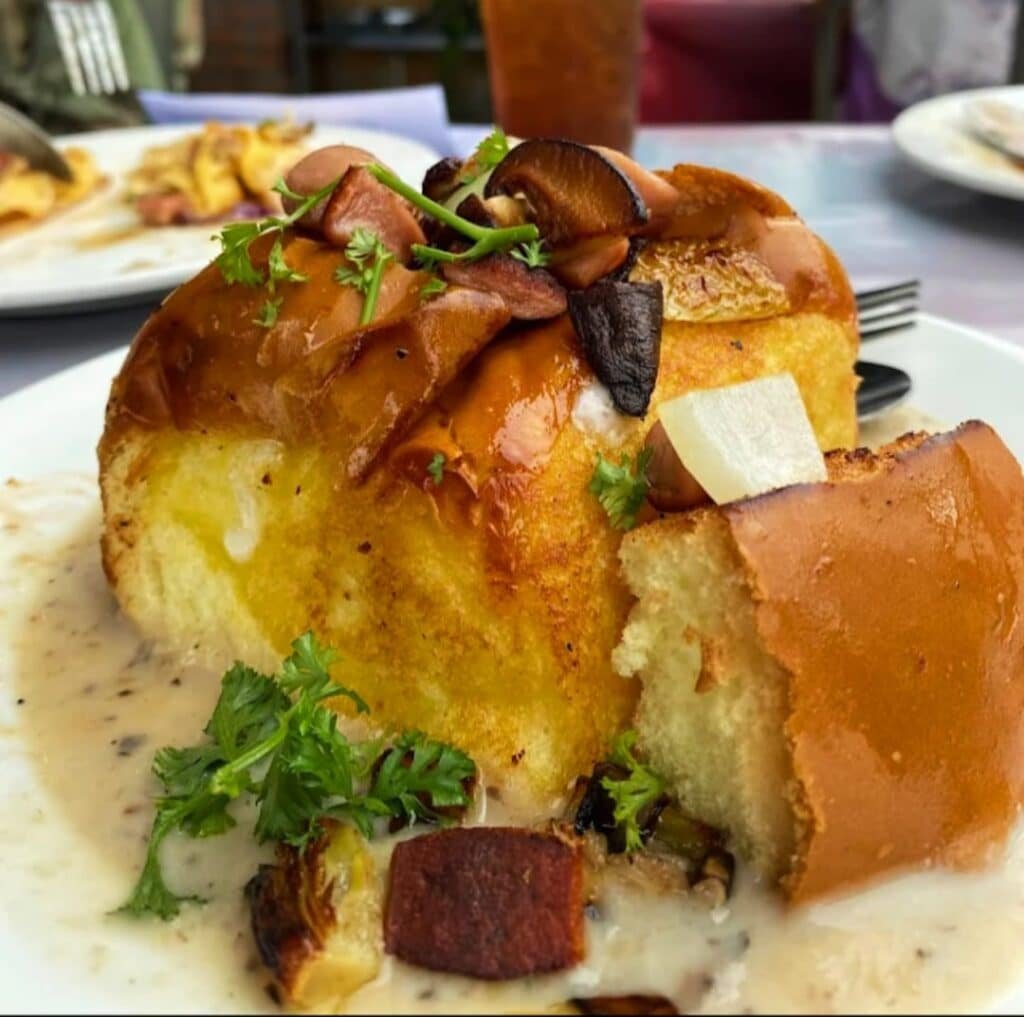 Nicely plated Big Bun Mushroom Soup for the gram. The bun was soft like brioche, accompanied with creamy mushroom soup and in the middle stuffed with oozing egg yolk. Very smart dish, taking telur goyang to the next level.
Indulge in this classic breakfast with fluffy scambled egg, fried potato wedges, soft bun, with baked beans and greens.
Address:22, Jalan Lapangan Terbang, Kampung Melayu Sungai Rapat, 31350 Ipoh, Perak 
Operating Hours: 7:00a.m. to 12p.m  (Closed on Wednesday and Thursday) 
Contact Details: 011-64005200 
Price range: $ 
Halal: Yes 
Remarks: Must try refreshing lemonade
Share This Story, Choose Your Platform!
Check out other food you have to try in Ipoh:
Are you ready to pack your bags and made a trip to Ipoh? Food adventure awaits!